Spend an evening checking out the universe with your fellow humanists!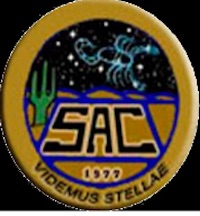 The Saguaro Astronomy Club, in conjunction with Glendale Parks and Recreation, is hosting a 40th anniversary viewing event (weather permitting) on Saturday September 30th from 6pm to 9pm at the Thunderbird Conservation Park, 67th Avenue and Patrick Lane in Glendale.
Telescopes will be made available for public viewing and club volunteers will be on hand to answer questions.
The event is free and fun and educational for all ages!
As a group, we can meetup at 6pm at the Starbucks located at 67th and Beardsley (20249 N. 67th Ave., # B, Glendale, AZ 85308). We will make introductions and socialize until about 7pm, at which time we will decamp to the park, about 1.5 miles north.
Participants are welcome to partake of the astronomy event for however long they desire.
For those who might be interested, we can regroup at the Panera Bread on 67th Avenue south of Beardsley (20199 N 67th Avenue Glendale, AZ 85308), which is open until 10pm. No specific arrival times are expected; most likely, members of our group will stay for varied lengths of times.
An alternative re-grouping venue is The Nosh restaurant (and bar), which is adjacent to the Panera Bread; this is a decision we can make on Saturday night, in any case, depending on interest and feedback.
Note: As mentioned, this is dependent on the weather. If the weather doesn't cooperated, check this site (or your emails) for changed plans!
This is not an official HSGP event but will be of interest to many of our members.
September 30th, 2017 6:00 PM through 9:00 PM
Thunderbird Conservation Park




67th Avenue and Patrick Lane




Glendale

,

AZ




United States