TEENS INVITED TO SOLSTICE PARTY!!! 5-8pm Presented by TEEN THINKER
TEEN designated area is the LIBRARY! At 5 upon arrival teens should bring their buffet dinner to the LIBRARY to enjoy the company of other teens.
Either bring a dish for the potluck or make a $10 donation.
There will be a bake sale, a silent auction, a tag sale and raffles.
At 7pm we'll all move into the main hall for Raffles and Games and Dancing. We'll draw the big winner for the 50-50 raffle, then continue drawing for numerous other prizes including T-shirts, floral centerpieces (made by our Girl Scout Troop!), books and other items.
Dancing with DJ Alex will commence on the patio.
Long time member Art will set up his telescope for some star gazing in a dark part of the yard.
Instigators will get some board games going in the main room.
Please RSVP on our Meetup page at
HSGP Meetup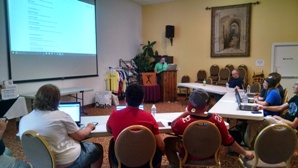 December 17th, 2016 5:00 PM through 7:00 PM