Arizona State Senator Juan Mendez will discuss "Changing Demographics in America and What that Means for Humanist Politicians".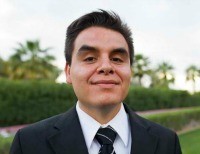 Join us to hear Humanist Arizona State Senator Juan Mendez discuss the future impact of Humanism on politics.
The new American majority is much more diverse and includes a broad coalition of communities of color who have the potential to shape our future. It's imperative now more than ever to broaden our base to remain relevant and move everyone forward in a positive direction.
The meeting is free and open to the public. Doors open at 9:00 am for socializing with an optional Continental breakfast available for a $5 donation. The meeting begins at 10:00 am.
A Children's Program is available during the Speaker Meeting. Please see the HSGP Meetup for the Children's Program at this meeting for more information and to RSVP with the number of children attending.
Need Accessibility Options? Send an email to president@hsgp.org with Accessibility Options in the subject line and let us know about your needs.
Please consider volunteering to help make this event possible. Click on the SignUp Genius button below for a list of volunteer opportunities.
August 6th, 2017 10:00 AM through 12:00 PM