Lamb: The Gospel According to Biff, Christ's Childhood Pal Presented by Book Club
Join us to discuss
The Gospel According to Biff, Christ's Childhood Pal
by Christopher Moore.
from Amazon...
The birth of Jesus has been well chronicled, as have his glorious teachings, acts, and divine sacrifice after his thirtieth birthday. But no one knows about the early life of the Son of God, the missing years -- except Biff, the Messiah's best bud, who has been resurrected to tell the story in the divinely hilarious yet heartfelt work "reminiscent of Vonnegut and Douglas Adams".
If you purchase this book from Amazon through the Amazon Smile program, HSGP will benefit. Click on the link below.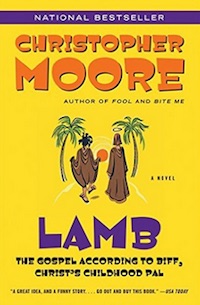 March 26th, 2016 10:00 AM through 12:00 PM