Alda & Krauss: An Origins Project Dialogue - Science and Art: Long Lost Lovers Presented by Origins Project
Join stage and screen legend Alan Alda and Lawrence Krauss for an intimate evening of conversation for the inaugural Dialog with the Origins Project. Science and Art: Long Lost Lovers will feature a candid and unscripted conversation on the importance of scientific literacy and the role of science and creativity, among other topics, will make for a thought-provoking night.
Alan Alda has hosted Scientific American Frontiers for over ten years and has starred in numerous plays, films, and television shows including his Emmy Award winning roles in The West Wing and M.A.S.H. A New York Times best-selling author, Alda is a member of the American Academy of Arts and Sciences.
Tickets are on sale now for $9, $15, or $50 (plus about $7 in various fees) from The Orpheum Theatre. If you are not local to the Phoenix Metro area, you can watch the live webcast of the event at
http://www.ustream.tv/asutv
. TICKETS APPEAR TO BE SOLD OUT
Get the most recent updates from the Origins Project by following on Facebook /ASUOriginsProject and on Twitter @asuORIGINS. Contact origins.project@asu.edu with questions.
Info:
origins.asu.edu/events/alda-krauss
>>>There is a pre-Origins dinner at Majerle's at 5:00, arranged by Chris/Phoenix Atheists. If you would like to join the dinner group, PLEASE click on this link and RSVP:
www.meetup.com/phoenix-atheists/events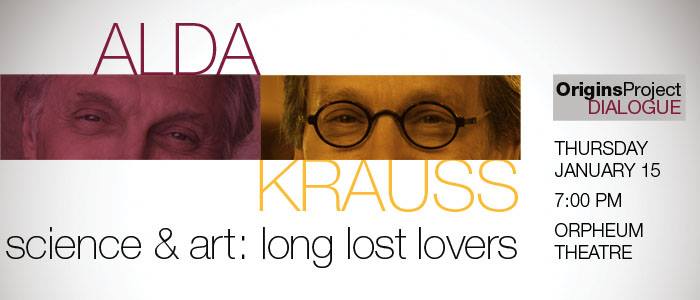 January 15th, 2015 7:00 PM through 9:00 PM