Odyssey of the Mind trip to World Championships Fundraiser Presented by Pancake Breakfast and Entertainment Fundraiser
Pancake Breakfast 9:00 am to 1:00 pm. Suggested donation $15, more or less depending on your pocketbook.
HSGP\'s Odyssey of the Mind Team, First Place Champs, are going to World Finals in Iowa! ...that is, IF they can raise enough money for the trip!
The HSGP team will hold some fundraisers to raise the money needed to compete in the OOTM World Finals in Iowa (airfare and housing packages, including food, for the team members, coaches, and parents). The team, our team, qualified for World Finals last year as well, but the families just couldn\'t afford the trip, so they were not able to compete.
Let\'s help them make it this year!
Do you know that our HSGP team (East Mesa Cre8tive Kids) is the only team not affiliated with a school? And it is the only specifically Humanist team in the country, probably the world! Even though our team does not get the support that the school teams get, and our team is not able to meet as often as the school teams do, our team won FIRST PLACE in Regional AND State!
On Sunday, April 27, the OOTM team will put on a pancake breakfast/brunch from 7:00 am to I:00 pm. They will present some improvisational entertainment for you as well! Watch this space for details as they become available.
There will be more fundraising activities, to be announced soon.
Go Omers! Odyssey of the Mind® 2014 World Finals
Iowa State University
Ames, Iowa
May 28 - May 31
Over 800 teams from around the world will compete in the 35th Odyssey of the Mind World Finals. The competition emphasizes creativity and teamwork and has grown into the largest international creative problem-solving competition worldwide.
Millions of kids have been working hard all year perfecting their solutions to OotM problems and competing within their regions and states. Only a few will advance to World Finals – these teams represent the best of the best creative minds.
While the competition is fierce, there is also a feeling of camaraderie among competitors. Many students form life-long friendships that span the U.S. and the globe. At World Finals, teams have the chance to learn about other cultures through a common goal . . . to be as creative as they can!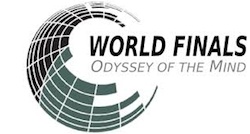 April 27th, 2014 7:00 AM through 9:00 AM